Welcome To
For The Love of the Dog's
"Buy My Pup a Bone"
For the Love of the Dog is a free site that provides news, information, tips and help for you and canine companion everyday. Donations are kindly welcomed to keep us up and running! As a token of my appreciation you'll also receive a gift for your donation - "Responsible Dog Ownership - Essential Tips for Every Dog Lover"
Just pick a virtual treat from the list below - Jezzie & Bruti will be sure to appreciate!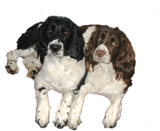 A Biscuit for Each - $2.00

A Box of Biscuits - $5.00

A BIG Bone for Each - $10.00

Steak Dinner for Jezzie & Bruti - $25.00

A Day at a Doggie Spa - $50.00

A Super Treat of Your Choice
(for those wanting to offer a different amount)
Just Click on the Image and Give my Babies a Virtual Treat!
A Steak Dinner for Jezzie & Bruti